Day 1 of ICUEE 2009 had some cold, wet weather and some hot new product launches. What's new with Vermeer, Ditch Witch, McLaughlin, Paladin and more, plus photos and updates from the ground in Louisville, KY.
Vermeer was the first stop of the day for the UCon @ ICUEE blogger at large, and plenty of bright yellow new tech is on display. The big news is a new high-precision drilling system, which inventor Stuart Harrison says uses a laser guidance system to put a pipe in the ground so precisely there's no earth disruption, no drilling fluid is necessary, and one team brought a bore 150 feet horizontally under a busy intersection into a precut hole in a manhole wall barely bigger than the pipe itself.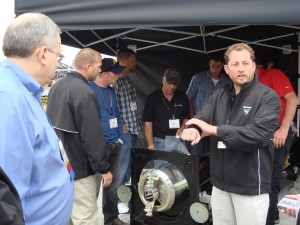 The system is compatible with PVC and several other kinds of pipe and boasts a hex drive that allows the operator to change the direction of the rotation midbore. The first unit sold to Avertex Utility Solutions this morning.
Next up was the TrenchSense electronic control system, which monitors engine RPM and trencher chain operation and adjusts automatically to correct for rocky ground or ease a service run in a residential neighborhood with buried hazards. The system is in production for the RTX 550 and coming soon on the RTX 750.
Vermeer is also spotlighting renewable energy options, including a cable layer attachment that will increase conductivity of lines laid through wind farms by keeping cables together, and a grouting system keyed to geothermal energy projects.
Ditch Witch was next on the agenda, just in time for the first bout of chilly rain to strike the Kentucky Fairgrounds. That ensured a good turnout in the Ditch Witch tent, where a Talon drill bit was demonstrated on a four-inch-thick block of rock.


Ditch Witch has new products in mini excavators, rock drills and track trenchers coming out by January 2010. They've also just released the MT45 "microtrencher," introduced last week. Ditch Witch is also twittering: check them out at http://twitter.com/ditchwitch. Follow Underground Construction on Twitter while you're at it: http://twitter.com/UConOnline.
Paladin is announcing the formation of Paladin Construction Group from the joining of Paladin Light Construction and Paladin Heavy Construction. The company is an umbrella for eight brands of attachments, providing a one-stop shopping option for contractors looking to make the most of the equipment they already own while expanding their expertise into new project areas.


The company is using ICUEE to launch its Back 2 Work program, in which it makes its experts available to contractors for project problem-solving. Rebates up to $500 on Paladin attachments are also on offer at least until January 2010.
McLaughlin's ICUEE star is a reintroduction of the cradle boring machine last produced in the 1960s and 70s. McLaughlin says the 54/60 model it's launching has significant safety upgrades and is accurate within tenths of an inch in the hands of a skilled operator. It has been tested up to 650 feet on a 24-inch sewer line and avoids the need for a pricy pilot tube system. The machine is designed to use the water line to stay level, a low-tech but highly accurate method.

McLaughlin is also highlighting a 1200 cfm air-water vacuum excavator, from the Xtreme series.
As for UCT@ICUEE, the panel on Wind Power Industry Growth capping the day's sessions attracted 65 attendees. The panel was moderated by Tim Wagner of the PCCA and promised an overview and outlook for the industry. A full and promising first day, and another round starts tomorrow at 7 AM.