After more than two years of declining revenues, tightening budgets and helplessly watching from the sidelines as their sewer and water infrastructure continues to decay and they are increasingly struggling to maintain current service levels, U.S. municipal personnel are hoping to experience at least a minor measure of improvement in 2011.

But the biggest obstacle — and concern — for municipalities along that path of better conditions remains the financial health of not only their cities, but both state and the Federal governments as well. City personnel are well-aware that much of their ability to service and maintain infrastructure is tied directly into state and federal loan and grant programs such as the Drinking Water State Revolving Loan Fund (DWSRLF) and Clean Water Act (CWA) funding. Unfortunately, the news on the funding front remains cloudy at best. And the odds for increased federal funding, at least for 2011 – 12, are in a word, dismal.
With that reality in front of them, most municipal personnel anticipate only minor funding improvements in 2011 though they acknowledge the second half of the year could see a change for the better – if only in baby steps.
This information and more was revealed in Underground Construction's industry exclusive 14th Annual Municipal Sewer and Water Infrastructure Survey. Conducted in October and November 2010, the survey polled U.S. municipalities about their 2010 actual spending and 2011budgeted infrastructure funding programs along with their perspectives on technologies, trends, issues and working relationships with consulting engineers and contractors. The survey results are subdivided by regions and city populations to develop a nationwide benchmark for projections.
Show us the money
It is no surprise that funding would be foremost on the minds of municipal personnel. In fact, the words 'funding, budget and rate increases' were repeatedly mentioned in written comments. With the new political dynamic in government, Congress has a mandate to control spending and that will probably mean additional budget cuts.
Federal infrastructure funding already took a hit when Congress allowed the Build America Bonds (BAB) program, created by the 2009 stimulus bill, to expire at the end of 2010. The program subsidized the interest rates cities and counties paid to investors who purchased bonds used to finance local infrastructure projects such as sewers.
So, for municipalities, the question remains: where will the money come from? With Federal spending hitting record levels – and perceived as out-of-control by the general public — proposals such as a second wave of Federal stimulus funding are remote as are other proposals such as an infrastructure bank. Increased spending proposals for the CWA or DWSRLF will face intense scrutiny and most likely be held at current levels or even scaled back.
States and cities are also still reeling from the recession and many face severe budget shortfalls. California and Florida's financial woes are well documented but even states like Texas that weathered the recession better than most, is dealing with a projected two-year budget shortfall of $27 billion.
For those cities under consent degrees, the road to recovery is indeed steep as not only are they struggling with budgets, but there is no relief from their negotiated settlements with the EPA. In fact, President Obama's regulatory initiatives at the Environmental Protection Agency (EPA) will probably be less affected by changes in congressional makeup. Increased enforcement by the EPA for cities out of environmental compliance began to ramp up in 2010 and is expected to continue – at least for 2011.
Silver lining
Still, even with all the funding, regulatory and legislative concerns, most municipalities believe that if they can tread water in the first half of 2011 and gain additional stability, the back half of the year could see at least limited spending traction moving forward into 2012.
Total spending for sewer, water and storm water construction and rehabilitation for underground piping infrastructure is projected to top $13.86 billion in 2011 compared to 2010's $13.48 billion, an increase of $320 million or 2.8 percent. While that figure, on the surface, is not exciting news, further analysis reveals a strong positive and reason for encouragement.
In 2009 and 2010, the industry struggled mightily to survive. Cities were frustrated by the backlog of projects piling up as vanishing funding forced delays or even cancellations of vital infrastructure needs. Irritated citizens lost confidence in the ability of their city government and departments to competently manage the business of municipalities.
Consulting engineers and contractors were jumping at every opportunity, large or small (and often outside their expertise comfort zone) to bid work. Often, that work was bid far too cheap. Projects that usually had half-a-dozen quality bidders suddenly had 15 or 20. The industry was stuck in survival mode, relaying on economic stimulus monies to keep funding levels at reasonable levels.
"Economic stimulus" and "shovel-ready projects" became perhaps the most overused yet highly anticipated terms for cities, contractors and engineers in 2008 – 10. While the long-term impacts and benefits of the stimulus are yet to be determined, those funds did shore up sewer and water spending in 2009 and 2010. However, almost all of those funds have now been invested and we enter 2011 without the federal government and politics dictating spending in various regions of the country.
The primary difference in the 2011 numbers is that they represent actual market-driven dollars rather than the artificially inflated spending of 2009 – 10. In 2011, the industry should see self-generating stability and improving health without outside dollars being pumped into the market from deficit-spending stimulus monies. In effect, the projected municipal budgets for 2011 reflect real dollars, actual improvement and at last, a light at the end of the tunnel. This year is projected to exceed 2010 spending levels without aid. While 2012 is not projected to be a banner year for sewer/water spending, it is expected to continue with slow improvement and 2013 potentially the break-out year for substantial market turnarounds.
Almost all niches of underground sewer/water piping spending are anticipated to see slight improvement in 2011. Municipalities expect to spend $4.3 billion on new sewer construction compared to $4.2 billion last year. For sewer rehab, cities are planning to invest $3.4 billion compared to $3.3 billion in 2010.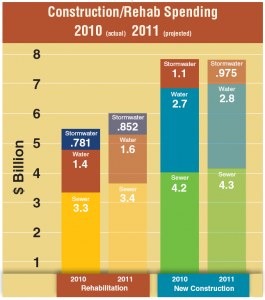 New construction for water pipelines will climb $100 million in 2011 to $2.8 billion while water rehabilitation, a market continuing to garner high interest and growth potential – even in a recession – should grow to $1.6 billion, up from 2009's $1.4 billion.
Municipalities also anticipated a substantial growth for their storm water rehabilitation spending from $781 million to $852 million in 2011. New construction spending for storm water piping systems is the only blemish on the 2011 growth record as funding is expected to decrease slightly from $1.1 billion to $912 million.
Issues
As mentioned earlier, cities have many concerns going into 2011. But when asked what will be the most important issues facing cities in 2011, the majority of answers were related to money.
A Florida municipal respondent pointed out that their city was still facing "shortfalls in the budget." In Colorado, one city reported not only are they struggling to "maintain the budget," but are also wrestling with trying to find and train new employees to replace the long-term employees who recently retired."
From Michigan to Oklahoma, Georgia to Oregon, respondents commented on their local battles to raise user fees. Said this respondent from South Carolina, "the need to rehabilitate our old sewer and water lines is critical, but the pressure to not raise rates to cover those costs is huge."
Said this respondent from a city in Kansas: "There are strong financial concerns – we have a lot to fix but its tough finding funds. We continue to raise rates." This city employee from Wisconsin stressed that funding infrastructure maintenance has become very difficult as "property values are declining and that affects the borrowing capacity of municipalities."
"We're being asked to make do with current funding levels," said an Arizona city official. "Our biggest problems are budget constraints and a poor economy for new building (commercial and residential)," observed this respondent from Washington state.
"Meeting the terms of a consent order," was cited by this person from a Pennsylvania city. Another city representative from Tennessee stressed that "new, unfunded government mandates at both the national and state level are a serious issue." This opinion was echoed by several respondents.
The struggling economy has also produced a unique problem for several cities as delinquent sewer and water bills continue to pile up at a record rate. Other major issues included health insurance costs, personnel shortages and the cost of construction.
Even before the recession and resulting budget crunch, cities were always struggling with generating and acquiring funding to maintain, repair and expand their infrastructure systems as needed. Not surprisingly, 2011 has seen the gap between budgets and needs grow substantially. On average, cities now estimate they need at least a 33 percent increase in spending just to maintain current service levels. About a quarter of responding cities said they needed a budget increase of at least 50 percent or more to meet their needs.
And while cities have been steadily turning to rate increases as a necessary evil to maintain services, municipalities still are averaging three years between user fee rate hikes. About 8.4 percent of cities have not raised rates in over 10 years.
Asked what are the major concerns affecting sewer and water departments, funding topped the list, being cited by 82.4 percent of all respondents, followed by government/EPA regulations at 61.1%.
Trenchless dynamics
While trenchless applications for construction and rehabilitation have steadily gained favor over the past 20 years, 2010 did see a bit of a slow-down in the use of some methods. With tight budgets, there was some reversion to conventional construction techniques. There remains the perception that open-cut is the 'safe choice' – risks are well-documented and thus controlled along with generally being more economical. Some cities were willing to deal with disgruntled citizens and torn-up streets if the jobs could be performed more economically.
Another interesting point made by survey respondents was that as wide-spread as trenchless construction/rehab has become, many methods are still not commonly available for smaller cities, largely due to logistics. As one respondent from an Alabama city pointed out: "Even small towns have someone readily available with a backhoe-loader when we have a problem. But it's impossible for us to get a contractor that can pipeburst or use CIPP without charging us exorbitant travel and staging costs."


Another city official in Rhode Island explained that "we have a very small budget and the boring company is 100-miles distant." An Alaska municipal respondent added "remote location equals high mobilization costs. Most of our candidate jobs are relatively small."
Still, trenchless construction/rehab remains a vital, growing part of sewer and water infrastructure work and is generally viewed as just as effective as open-cut solutions. There are still mixed views regarding the economy of trenchless vs. conventional construction methods.
"Trenchless is less costly," said this respondent from Maine. On the other hand, this Ohio city representative emphasized "we'd like to use trenchless more often but it is not as cost-effective as open-cut."
The benefits of trenchless construction continue to be recognized. "It saves us time and the public inconvenience on our roads," said this respondent from a Massachusetts city. "Without trenchless methods, we would not have been able to rehab nearly as much of our sewer system as we have – the savings from shortened construction windows and minimal street repairs have allowed us to do more with less money," stressed an Indiana city official.
A Pennsylvania respondent pointed out that a side benefit of trenchless was that "right-of-way permits that may be unavailable when using open-trench methods can be by-passed with trenchless."
Click for a closer look at municipalities' views of individual trenchless technologies. [file:trenchlessview11.PNG]
Contractors
As always, the survey queried municipalities regarding their relationships with contractors and consulting engineers.
On a five-point scale with 5 being the best possible rating, contractors received a score of 3.82. While down from last year's record 3.87 score that still represents the second highest rating in the history of the survey. A Georgia respondent explained that "we're generally pleased with the work of our contractors; however, since the recession started, we've had a lot more contractors bidding on our projects and we've had to be a lot more careful in qualifying them."
Still, municipal personnel had plenty of suggestions on how contractors could do a better job and improve relationships with cities. "A contractor that researches and organizes his work is more effective," stated this Ohio respondent. An official from North Dakota said that contractors "could notify agencies honestly if they are properly qualified and have the experience for the work being hired for – instead of saying they know how to do the work and then making the problem worse."
A city respondent from Nevada said "I believe contractors need to bid reasonably and not buy the job. There is a potential in the future for warranty issues due to the ultra-competitive nature of the bidding process in the present economic times."
Another respondent from Vermont advised "Anticipate problems and discuss them prior to the start of a project." From Michigan, this suggestion: "Be honest and employ workers who know what they are doing." A California municipal employee also stressed that contractors should "know what they are doing – don't bid on jobs to learn on."
A respondent from a city in New York lamented that contractors should be more "upfront and honest – we pulled approximately a half-ton of stones out of a new water main." This Texas official wanted contractors to have "knowledge of the use of GIS as a means to manage projects over a large area involving lots of assets."
"Work as partners with the agencies," advised a city official from Virginia. "Show integrity and honesty in the work, perform to the best of their abilities. Over the long term, the companies will benefit while the agencies receive the best value."
'Quality' is still the most desired characteristic cities want from their contractors, being cited by 90.5 percent of the survey respondents followed by 'experience' tabbed by 74.6 percent and 'timely completion of projects' at 61.9 percent.
Engineers
Conversely for consulting engineers, their job performance approval rating (one being poor and 5 being the best) grew to 3.72, up from 3.59 and a seven-year high. "We've had to rely more on consulting engineers to make the right decisions for us since our budgets are so tight – and we feel very good about those decisions," said this satisfied Oklahoma respondent.
There was also plenty of advice for improving their relationships and job performance, according to city personnel.
"Be more aware of changing technology," was the suggestion from a Wyoming respondent. "Stick to the basics and quit spending money on unnecessarily complex systems that are hard to teach to an aging work force," pointed out a city official from Nebraska.
"The district's engineer is near perfect. However, developmental engineers leave much to be desired – most of their work is poor quality," observed this Colorado municipal official. "They do not follow district standards and specs and they don't learn from previous mistakes."
This North Carolina city respondent would like for engineers to do a better job of "staying on top of projects – have an inspector on site." A city respondent from Pennsylvania suggests engineers should "keep local officials apprised of rule changes, grant sources and keep up with specific requests of the municipality needs or desires."
Survey respondents also overwhelmingly (84.2 percent) cite 'quality' as the top characteristic they want from consulting engineers followed by 'understanding of new technology' at 47.6 percent and 'productive relationships with contractors' cited by 46 percent.