Mud mixing systems from Vermeer, TT Technologies, Ditch Witch, SiteTec, American Augers, Tri-flo Inc.,
Kem-Tron Technologies and Mud Technologies International.

Vermeer
The Vermeer MX240 Modular Drilling Fluid Mixing System enables fast, efficient high-volume mixing of drilling fluid for large-diameter and longer-distance HDD applications. The unit is powered by either a 25-hp Kohler gas or 22-hp Hatz diesel engine. A modular design provides mounting placement flexibility. A new venturi design features a direct injection hose, which allows the operator to inject drilling additives directly into the tank. The additive tank features a cone-shaped bottom to help prevent drilling additives from collecting at the bottom of the hopper. 641.628.3141, www.vermeer.com
TT Technologies


The Grundomudd portable bentonite mixing/delivery system uses a Venturi mixer/filtration system to quickly mix bentonite and water into slurry. An in-tank re-circulating valve prevents the mixture from settling. The Grundomudd is available in 225-, twin 225-, 500- and 1,000-gallon capacity models. Each self-contained unit comes complete and ready to use. A tank isolation valve allows pump lines to be cleaned without draining the tank(s). All models incorporate easy to clean round poly tanks. 800.533.2078, www.tttechnologies.com
Ditch Witch


The FM13V fluid mixing system is designed to work a long time before requiring any of your attention. Its pump lubricates itself during mixing, and works so efficiently that it delivers 20 percent more fluid capacity than other models. To make your life easier, it even has a built-in bag-ripper. Operators have a choice between a 500- and 1,000-gallon tank. 800.654.6481, www.ditchwitch.com
American Augers


The latest concept in Mud Pumps from American Augers is the P-600/G2 featuring a Kerr tri-plex 600 GPM pump. The big valves on this new pump allow contractors use a higher viscosity (heavier) mud without lowering the flow rate! This, in turn, means a smaller pump with a smaller engine can be utilized thus increasing fuel savings. 800.324.4930, www.americanaugers.com
SiteTec
SiteTec units range from 70 ltr/min to 2,500 ltr/min for both sales and rental. The units are self-contained high shear venturi mixing system with a UV stabilized PE mixing tank or steel tank with an access opening. The centrifugal mixing pump, with mechanical shaft seal, is driven by an electric start diesel engine or an electric motor(s). The hopper is equipped with a butterfly valve for regulation of the powder flow to the venturi. Mixing time for a full tank is 60 seconds; viscosity drilling fluid takes approximately six minutes. Agitation of the drilling fluid in the tank is done by means of several jets and/or submersible agitators. The units are designed for constant drilling fluid mixing and all mix units have a drilling fluid discharge connection to the drilling high-pressure pump. The water intake is equipped with a water filter and an intake connection for recycled drilling fluid is included. +31 343 595 400, sitetec.nl
Triflo Intl.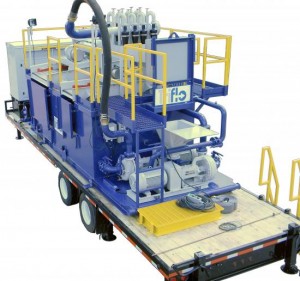 The Triflo 3500 has a 3,500-gallon, two-compartment tank that is 7-feet-wide by 20-feet-long by 5-feet-high and is mounted on a heavy duty three beam skid 7-feet-wide by 28-feet-long with pull pipe on each end. The tank includes necessary plumbing for three centrifugal pumps, one mud cleaner and 4-inch mud hopper. Other features include Mud Slides, Dump Gates, Fold Down Catwalk, Handrails, Toe Plate, Grating, Ladder, Lighting and Single Control Panel with Pump and Motor Starters. The 3500 comes with: one TFI 146E Elliptical Shaker and Possum Belly; one TFI 12-4 Low Profile Mud Cleaner over TFI 146E Elliptical Motion Shaker; one TFI 4-inch Mud Hopper; two TFI 4×5 Centrifugal Pump with 30 HP Electric Motor; one TFI 4×5 Centrifugal Pump with 20 HP Electric Motor; and two TFI 2-inch Swivel Type Mud Guns. The flow rate for the Triflo 3500 HDD is 500 GPM. 888.255.2440, www.triflo.com
Kem-Tron Technologies


The Pit Bull is a hydraulically driven variable passive-vibrator motion mud recycling system. Capable of achieving 4-6.5 G's of force. The 1,100-gallon capacity tank allows for a 300 gpm fluid handling rate. The Pit Bull contains a 19-foot scalping screen area to which the hydro cyclones discharge. 281.261.5778, www.kemtron.com
Mud Technology Intl.


Mud Technology manufactures a complete line of fluid handling systems — pumping, cleaning and mixing or any combination. Mud mixers are available in 50 gallon per minute to 2,000 gallon per minute. The MUD MASTER MPC-T 750 is a 750 gpm cleaning unit that mixes, pumps and cleans and is fully self-contained. 903.675.3240, www.mud-tech.com