Last year Volvo Construction Equipment signed a deal to provide 125 machines to the Papua New Guinea Liquid Natural Gas Project (PNG LNG). Now, almost a year later, Volvo has delivered 133 units and the machines have started work.

The PNG LNG project is a major development to commercialize the vast, untapped gas and liquid hydrocarbon resources located in Papua New Guinea's southern highlands and western provinces. The 15-year project will provide energy for the Asia-Pacific region and jobs and economic benefits for the people of Papua New Guinea. The development will involve the construction of a liquefied natural gas (LNG) plant, an offshore pipeline, an onshore pipeline, and transport to the areas via an airport and several roads.
The PNG gas will be transported by pipeline to an LNG facility 12 miles northwest of Port Moresby on the Gulf of Papua coast. When fully operational, over 6.6 million tonnes of LNG will be produced a year.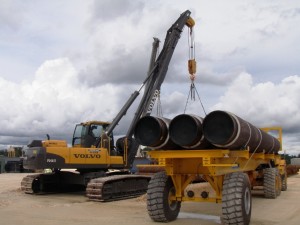 A Volvo PL4661 lifts and loads pipes to be transported to the Kopi pipeline site.
The project will progress in a series of development phases, with the first LNG deliveries scheduled to begin in 2014. The deal represents a major breakthrough for Volvo Construction Equipment in the oil and gas segment.
"We have been involved with this industry in the past, but never on this scale," says Thomas Stemper, key customer director for Volvo's International Region. "The project represents a significant sales as well as service turnover, which is expected for the next three years.
"This deal shows that customers in the important oil and gas sector consider us to be one of the global players now. The door is open for Volvo in this segment and we are on the move."
Volvo Construction Equipment is heavily involved in two sub projects: construction of the onshore pipeline and an airfield to provide access to a gas conditioning plant. The airfield is located at Komo. The sub project is run by MCJV – a joint venture between Australian company MacDow and Greek company CCC. The second sub project, the onshore pipeline, is located at Kopi. A further 70 Volvo units – mostly A30E articulated haulers and PL4611 pipelayers – have been signed to Spiecapag for this project as well as wheel loaders and backhoes. volvoce.com