The Third Annual Tulsa Pipeline Expo, held Aug. 29-31 in Tulsa, OK, welcomed almost 700 people and 86 exhibitors to an event designed to showcase Oklahoma's leading businesses in energy, infrastructure and construction sectors.

TPE 2011 was another successful step in improving the business climate in the state of Oklahoma. While the Tulsa Pipeline Expo is recognized as an annual event, the mission of TPE continues year round with a primary focus on leveraging the educational, financial and human resources within the state to create opportunities for Oklahoma.
Among the many highlights was a presentation by Oklahoma Governor Mary Fallin who addressed the significance of energy and infrastructure for growth within both the state and country. Other activities included a golf tournament, networking night with three Heisman Trophy winners from the University of Oklahoma (Steve Owens, Billy Sims and Jason White), educational sessions, exhibition, both a silent and live auction to raise money for local charities, and an energy round table.
The Tulsa Pipeline Expo began in 2009 with a strong group of individuals and businesses dedicated to the mission of TPE. TPE was developed by Vacuworx International, a Tulsa-based manufacturing company. TPE is a member of the Tulsa Metro Chamber and is accredited by the Better Business Bureau of Eastern Oklahoma.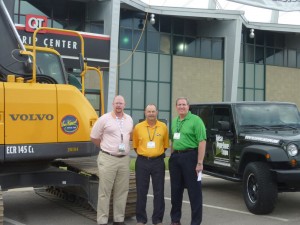 Pictured left to right, are: Jack Bolton, Volvo Construction; Kevin Miller, Miller Pipelines; and Rob Darden, Distribution Contractors Association.

TPE attendees view a video/demonstration.
The 2012 TPE will be held Aug. 27 -29.
FOR MORE INFORMATION:
Tulsa Pipeline Expo, (877) 300-4852, www.tulsapipelineexpo.com