R2S Solutions, an Arizona research and development company, has introduced a new fluid recycling system designed specifically for horizontal directional drilling equipment with pullback ratings of 50,000 pounds and less.

The truck-mounted CMD-1600 containment mixing deck can process 1,600 gallons of useable drilling fluid and allows HDD operators of this size equipment to operate productively while realizing significant savings in drilling fluid costs, said Slade Ottney, R2S Solutions owner and managing partner.
The new system is available now from the sales division of R2S Solutions and later from distributors as they are established.
Components of the CMD-1600 system mount on the deck of a conventional heavy-duty day cab truck. The clean water tank has a capacity of 1,000 gallons with a bulkhead separating a 200-gallon section for cleaning or mixing. The reclamation tank holds 600 gallons.
The split-screen reclaiming system has de-silter and de-sander cones and produces up to 100 gallons of reclaimed fluid per minute. Tank lids contain fluids so that mud can be transported from job to job. Charge and return connections are positioned at a low level at the rear of the truck.
Layout on the deck provides easy access to the mixing hopper, flow control valves and switch panel. The deck has ample storage space for fluid additives.
Equipment advantages
Ottney cites multiple benefits of the CMD-1600.
"Used in place of other mixing systems currently with drill units in the 17,000 to 50,000-pound pullback class," he explained, "the CMD-1600 will dramatically lower drilling costs. It allows continuous drilling without sacrificing valuable production time to get more water to mix more mud, or stop drilling to wait for the vac trailer or truck to return from the dump site."
The reclaiming industry does not offer many choices of smaller reclaimers, he continued, and those available typically are skid or trailer mounted.
"This means the HDD company will have to supply another truck to haul it, a cutting bin, a backhoe and dump truck to load the cuttings, and CDL drivers for each crew," Ottney stressed. "The utility market that supports these smaller drilling operations does not yield enough to add even one piece of equipment nor for additional labor."
Switching hats to that of chief operations officer for contractor R Directional Drilling and Underground Technology, Ottney said drilling fluids are a significant cost of every HDD project in a highly-competitive market where controlling costs is essential.
"Big mud circulation systems to clean and recirculate fluids for large drill rigs were available," he continued, "but we could not find a mud system suited for the smaller HDD units used by our company, R Directional Drilling and Underground Technology."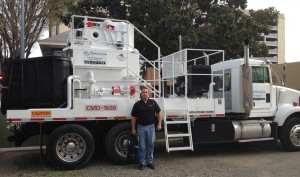 Comparing costs
Ottney said the cost of a standard smaller-size system varies from $70,000 to $95,000, and they require additional support equipment.
"The CMD-1600 is a water truck, mixing system and dump truck all rolled into one unit," said Ottney. "It costs $148,000 (without truck) FOB plus tax, and employing it can save $500 to $1,000 each day drilled. There is no need for additional equipment, crew, or drivers — the crew structure stays the same, and we replace mixing tanks with the reclaiming unit on a truck.
"Depending on the number of drillable days, per year a CMD-1600 can pay for itself in its first year and a half of operation."
Development of the CMD system began in November 2011 with testing following over the next year. The first production model was released in February 2013.
"The prototype unit has been in use for 14 months," said Ottney. "We performed several demos for more than a dozen companies in Arizona and California. Through this process we have redistributed weight, increased capacity, increased the ability to provide cleaner mud and decreased manufacturing time."
R Directional Drilling – owned by R2S Solutions – operates 10 HDD rigs and has put in service two CMD-1600 units with a third to be added this year, and two more to be added in 2014.
Development partner of the CMD-1600 is Mud Technology International, Athens, TX. Ottney said Mud Technology developed and is manufacturing the system's reclaiming unit and supplies pumps, electrical panel and generator sets which are shipped to R2S Solutions.
"We manufacturer the frame, finish fabrication, install water supply tank and parts, plumbing, electrical wiring to the gen set and pumps, install valves, rails and walkways and the sealed four-yard dump bed. The completed unit is mounted on the purchaser's choice of vehicle," Ottney concluded.
FOR MORE INFORMATION:
R2S Solutions, 602-908-1009, http://r2ssolutions.com
Mud Technology International, (903) 675-3240, www.mud-tech.com