Moody Gardens is a public, non-profit vacation and educational destination on Galveston Island, TX, utilizing nature to advance environmental research, conservation and rehabilitation, while providing interesting recreational opportunities.

Covering more than 240 acres, Moody Gardens includes nine interesting educational attractions, a hotel with restaurants and spa and a convention center, making it a popular attraction for Texas families, out-of-state tourists and organizations holding meetings and conventions.
In February 2014, a manhole in front of the hotel collapsed. Following emergency repairs, inspections of the sanitary sewer system serving the complex revealed serious environmental and health hazards.
"Tests revealed hydrogen sulfide (H2S) levels in the system were more than 600 parts per million (ppm), 600 times higher than the 100 ppm level OSHA says can be fatal," said Eric Dupré, vice president of operations and technical advisor at Southern Trenchless Solutions, the contractor called in to rehabilitate the failing manholes.
Hydrogen sulfide is a powerful and deadly gas formed by decomposition of organic materials and is common in sewer systems. It emits a strong, unpleasant "rotten-egg" odor. Exposure to high levels is fatal – breathing the gas goes from the lungs into the bloodstream. H2S also is explosive, igniting from a spark or flame.
This reading shows an H2S level of 651.


Dupré said Moody Gardens' sewer system is connected to an 18-inch diameter city force main from across the bay which includes an industrial area containing a shrimp food processing plant. Effluent from the force main is discharged into Moody's gravity flow system, passing through it to a downstream wastewater treatment plant.
Quick action
Due to the seriousness of the situation, Dupré said Moody Gardens decided to make repairs in hopes of preventing other failures. To heighten the concern further, Mardi Gras celebrations and spring break were only weeks away.
Mitchell Chuoke Plumbing of Galveston was the general contractor who brought Southern Trenchless into the project. Also involved was Gilbane Inc., which manages Moody Gardens' infrastructure.
Southern Trenchless' job was rehabilitation of eight manholes – seven with precast manhole replacements, the eighth with a 100 percent epoxy coating. The main itself was PVC pipe and did not require rehabilitation or replacement.
"This was the worst wastewater corrosion attack I have seen in my entire career," said Dupré. "Inspections of the manholes found that 90 to 98 percent of the concrete was completely deteriorated or had lost all structural integrity, eaten up back to the surrounding dirt with no concrete and no rebar. We could not apply epoxy spray liner because there was no substrate remaining. The only thing preventing them from collapse was the concrete and rebar from the pavement."
Therefore, seven of the manholes required fiberglass inserts. The eight was rehabilitated with a Manhole Mortar lining system, a Southern Trenchless product with 100 percent epoxy protective coating.
Rehabilitation of the manholes was complicated by the fact that the 18-inch main had to remain in service during manhole rehabilitation. In addition, coastal island ground water tables are from two-to-three feet deep, any new excavation would have incurred major costs to deal with dewatering work areas and bypass pumping.
To keep the 18-inch main in service, Southern Trenchless used proprietary flow control devices to control the flow and work without an active flow inside work spaces.
Workers prepare to place a manhole insert.


"We had to excavate only the top cone portion of the manhole to install the fiberglass insert which was pre-cut to fit and align incoming pipes," Dupré explained. "Once in position, we pressure grouted the annular space to compact and stabilize the ground around the manhole insert."
Inserts were provided by Containment Solutions. HDPE risers, and epoxy coating ring and covers were supplied by Ferguson Waterworks.
Quick turnaround
Rehabilitation of the eight manholes was completed in two weeks. "Moody Gardens took immediate action once the manhole problems were identified as a crisis," said Dupré. "Swift action by the owner, general contractor and management company avoided immediate failure of the system. The decision to proceed with a trenchless construction methods saved time, money and risk of damaging existing utilities."
By not bypassing, Dupré said estimating savings totaled approximately $20,000 per week. Bypass pumping would have restricted crossings, streets, walkways and other inconveniences related to a bypass system.
Dupré added that issues with the Moody Garden sewer system being linked to the 18-inch city main remain to be addressed.
"Had the condition of the manholes been discovered earlier," said Dupré, "they could have been rehabilitated by more economical methods. This illustrates why periodic annual assessments are so important to identify issues before they become more costly to remediate or even fail completely. Our firm knows that there are many different ways to properly rehab sewer structures so we have a complete tool box of rehabilitation methods we can deploy as required to offer the best possible solution."
Workers were forced to execute an emergency repair of manholes in and around the Moody Gardens complex, including the famous "pyramids."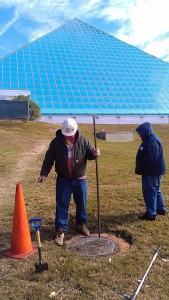 Southern Trenchless is based in Houston and mobilizes crews to other areas as necessary. The company was established in 2010 by Dupré, Pedro Santa, superintendent and lead operations instruction, and partner Ramon Closer. Southern Trenchless specializes in infrastructure rehabilitation using spray-applied systems that utilize high-strength structural repair/lining mortar in conjunction with epoxy systems. Also used are 100 percent solids epoxy systems. Southern Trenchless offers complete support of industry certified training (ACI & NACE), custom designed equipment, technical support and consulting.
FOR MORE INFORMATION:
Southern Trenchless, (281) 815-0985, http://southerntrenchless.com
Containment Solutions, (936) 756-7731, www.containmentsolutions.com
Ferguson Waterworks, (757) 874-7795, www.ferguson.com/business-groups/waterworks
Mitchell Chuoke Plumbing, (409) 744-4465, www.chuoke.com