Composite Manhole Rings Offer Light-Weight, Water-Tight Solutions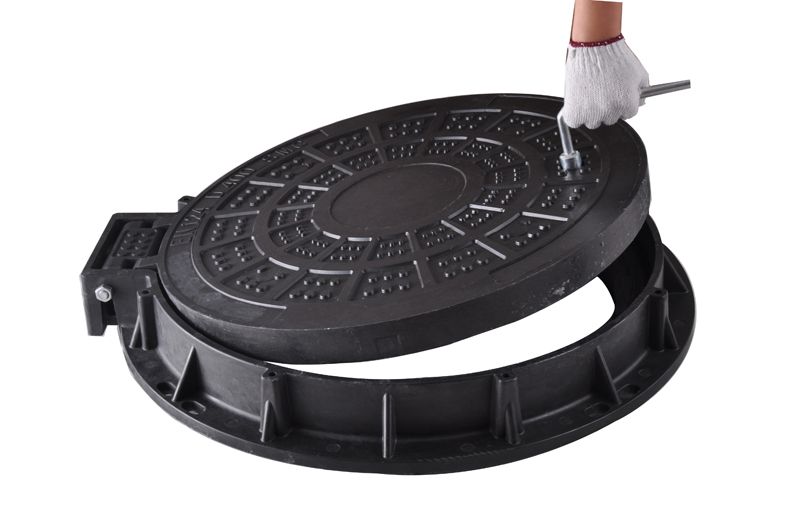 New composite manhole rings and covers have been introduced by BlueGreen Municipal Solutions.

The new rings and covers can be used to replace failing cast iron manhole access covers or installed on new manholes for both sanitary and storm sewers.
Unlike cast iron or other metallic covers and rings, BlueGreen Sewper Covers are not affected by H2S sewer gas and will never rust, said Eric Dupré, BlueGreen technical director of product development.
In addition, Dupré said Sewper Covers are much lighter in weight than cast iron, have a watertight rubber gasket to prevent leakage, a 180-degree double hinged cover with custom lock and handle design that is easy to open and close, and exceed HS-20 Class D loading specifications. Because the non-metallic covers have no scrap metal value, the risk of cover theft is virtually eliminated. Standard units meet or exceed minimal AASHTO design criteria as well as most local municipality specifications for this type of product.
"Installation methods are exactly the same as those for conventional rings and covers," Dupré said. "However, the lighter weight of Sewper Covers allows faster, easier and safer handling and installation. Our two standard units weigh between 117 and 145 pounds, so no lifting equipment is needed as with conventional metal units which weigh between 230 to 300 pounds."
Lighter weight also reduces shipping costs: 10 conventional metal covers and rings can weigh as much as 3,000 pounds, compared with 1,450 pounds for 10 composite units.
BlueGreen is the master distributor for North America, stocking standard sizes with customized units available by special order.
Competitive solutions
"Our units," said Dupré, "are the most competitive composite ring and cover product currently on the market and depending on volume, can be highly competitive with standard metallic ring and cover units, but with the benefits of additional features including, a watertight seal, standard 180 degree-double hinge cover, lighter weight, corrosion resistance and easier safer handling which make it impossible to make an 'apple-to-apple' comparison with conventional metal products."
Dupré said the BlueGreen Sewper Cover is the first and only composite product to exceed the HS-20 traffic loading, offer custom options and be price competitive.
The past 10 years, he added, European countries have been converting to composite covers and rings at a rapid pace. There are an estimated 20 million manholes in the United States with half installed before 1960.
"That means," he continued, "there are 10 million manholes that are 54-plus years old and which are due for replacement. Another key factor is that our Sewper Covers come with a standard, built-in rubber gasket, making them watertight. If 10 million standard cast iron units – which are not watertight – were replaced with Sewper covers, there would be a major positive reduction in sewer inflow and infiltration (I&I) nationwide."
Eliminating this infiltration would substantially lower the cost of processing wastewater, he added.
In addition to its other benefits, Dupré classifies Sewper Covers as a "green" product. "Recycled iron is used to manufacture conventional manhole covers," said Dupré, "and the recycling and recasting processes require a tremendous amount of heat. Reducing the manufacture of large quantities of cast iron covers eventually could have a positive impact on the carbon footprint.
"We believe we are the first to bring to the market a real solution to the problem of deteriorating manhole covers and rings. We offer a competitively-priced option to standard metallic covers and rings with benefits that bring added value. This product will have a major impact on the wastewater market."
FOR MORE INFO:
BlueGreen Municipal Solutions, (832) 384-5542, http://bluegreenmunicipal.com
From Archive