LAN Selected as Engineer for City of Haslet LeTara Development Sewer Interceptor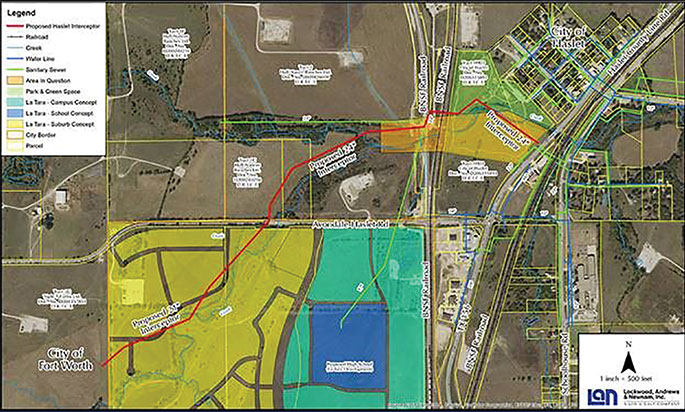 Haslet, Texas, selected Lockwood, Andrews & Newnam Inc. (LAN) to design a new sewer interceptor. The approximately 1-mile sewer line will serve LeTara, a growing 400-acre master planned community, including three new schools, under development. In addition, it will serve the remainder of 2,800-acres of potential development in the cities of Haslet and Fort Worth.
For this reason, the cities of Fort Worth and Haslet entered into agreement to construct the sewer interceptor line. As the sewer line discharges into an existing Trinity River Authority of Texas (TRA) interceptor (both cities are customers of the Trinity River Authority), the TRA also partnered with the two cities.
As the first phase of a larger project, the interceptor will include the design of approximately 2,100 linear feet of 18-inch line, 2,300 linear feet of 21-inch line, and 2,800 linear feet of 24-inch line. A second phase is also being planned to include a northern segment and City of Fort Worth meter stations.
Funding for the project is shared by the two cities. Haslet will oversee the project's design and construction, and after a Fort Worth connection is completed, TRA will own and operate the line.
Design will be completed in January 2019 and construction is scheduled for completion in the fall of 2019.
LAN is a Houston-based, full-service consulting firm offering planning, engineering and program management services for the nation's heavy civil infrastructure needs.
From Archive